Come under the Grace and Protective Mantle of Our Lady Mother Mary.

See the wonders she offers. This is an on-going Class, at your own pace.

Go to her class and Join it.
---
Jesus Speaks, "Follow-me, gain the Christed-Heart and Ascend to 5-D and beyond.

I designed these spiritual lessons especially for you. They are powerful, practical and filled with my LOVE. These lessons hold secrets and keys to your

attainment. I personally call you to:

"13 Lessons with Lord Jesus Christ" Recorded Live on these dates:

It will begin with an introductory pre-class on 2-29--2020 with Jesus, myself and Mary-Ma McChrist, my messenger. Love Offering sliding scale $22-65.
The main class begins with a powerful Teleconference Call on 3-21- 2020, "Rainbow Diamond Heart of the Christ." 6-8 PM PST. Love Offering sliding scale $22-65.
The Good Friday class is from 6-7:30 PMST "Transmuting the Cross." Love Offering sliding scale $22-65.
Sunday, 4-12-2020 we will "Join in Christ's Ascension Triumph" from 2-4:00 PM PST. Love Offering sliding scale $22-65.
Sat. 4-25-2020 is a special Lesson with Beloved Mary Magdalene from 6-8 PM PST. Love Offering sliding scale $22-65.

If you have signed up for this class already then it is included unless you wish to donate more.

Sign-up at https://newworldteachings.com

Come experience this class with Lord Jesus as he shares his personal path to ascension and leads by example to show us "the way."

All 13 lessons are specially priced just for you at $260 which is a saving from $65.00 per lesson which would be $845.00, which is a $585 dollar savings' This is an amazing saving and opportunity to work live with Lord Jesus first hand

You move through them at your own speed as the classes are recorded for your convenience. With Mary McChist there to mediate for you to hear and speak to Jesus for you. You can also set up one-to-one readings for more personal communication. Sign-up in the readings section on the website.

Sign-up at https://newworldteachings.com

Check the prices and sign-up now. After this introduction First Series, The Lessons will be twice as much, don't wait.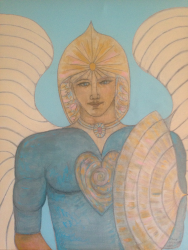 Dear Blue Rose Knights,
I, Michael, promise to create an amazing class for you, which will help prepare you to hold a replica of My Mighty Sword Excalibur, and weld it with power, and a sense of right action.
As of old, we Protect the Divine Mothers and their Children. Our Round Table is unique, because it is composed of both men, and this time, also the women, Ladies of the Holy Grail. The Blue Rose is the symbol of our Unity and courage. The Michael classes will prepare us to take our positions as Knights, Lady Knights, and Masters.
Your own heart will confirm that you are meant to sit at this Table Round of the New World.
"13 Days with Archangel Michael" will be scheduled later.
I AM Archangel Michael,
Standing in the Heart of Mother Mary and MA.
3:10 PM PST 12-4-19
© 2019-2020 by Mary McChrist. All Rights Reserved.