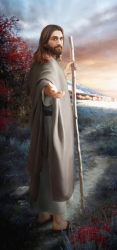 Dear Children,
I come to you, to gather you into my arms, into my fold of Light.
As your Shepherd; I have lifted you up, and protected you from harm.
Now, I come as your Spiritual Teacher, no matter which Path you
have aligned yourself with; for I Am the Synthesis of All Paths Home.
I have carefully designed my 13 Lessons for you, my Dear One.
They are Born from my Flaming Heart and will ignite you,
And will direct you, to "Follow Me," as I have asked you to do.
We are completing these Lessons at this time. They will be ready
by the time you are complete with My Mother.
She is the Foundation; I AM the New Mansion of My Father.