"During the first twenty-five years of a century;
the Templates are set-in place. They begin to
Birth the foundation of that age. New World
Teaching is one of these Templates."
Lord El Morya Khan of the First Ray
---
Virgin Mary Moving Statue

Baby Lambs of Christ
(For babies who were aborted of died prematurely)
by Mary Clarice McChrist
Baby lambs of Christ. (3x)
*We hold you in your perfect
Divine Blueprint. (3x)
Any illusion to the contrary is dissolved right now. (3x)
By the Mother's Heart of Love. (3x)
Baby lambs of Christ. (3x)
You are now and forever perfect,
Healed and whole.
Nothing can alter your peace.
The Akashic Records are adjusted to show this Truth.
By the Mother's Heart of Love. (3x)
Baby lambs of Christ, (3x)
We call the forgiveness Flame of the Creator.
O Mother-Father God absolve any digressions,
From the Divine Will and Law.
By the Mother's Heart of Love. (3x)
Baby lambs of Christ, (3x)
Please forgive all human trespasses
Allow us to forgive ourselves and all people,
Some thinking we had no choice for our actions.
By the Mother's Heart of Love. (3x)
Baby lambs of Christ, (3x)
O Christ and Mary forgive us, and help us,
Forgive ourselves for this situation.
By the Mother's Heart of Love. (3x)
Baby lambs of Christ (3x)
*Dear precious soul, I love you! (3-13X)
Rest in Heavenly Peace, and life eternally always.
We are forgiven. (3-13x)
Please erase All guilt, shame and sorrow. (3-13x)
May we learn from all of our mistakes, and change our actions,
To come under the Mantle of Divine Will.
By the Mother's Heart of Love. (3x)
So be it and so it is.
If you were involved in supporting abortion or experienced the death of a baby consider doing this prayer as
often as possible. Ask your Higher Self how many times you should recite it daily or weekly. Bless you Dear One.
Mother Mary Clarice McChrist 1-30-17, revised on 1-4-2020
© 2017-2020 by Mary McChrist. All rights reserved. Please share for personal or group non-commercial use only, giving complete credit as shown. Web sites: www.MaryClariceMcChrist.com, www. NewWorldTeachings.com www.AscendingWithTheMaitreya.wordpress.com Phone:530-295-4411, E-mail: This email address is being protected from spambots. You need JavaScript enabled to view it..
---
The Great Christmas Tree – The Tree of Life
Through the sparkling Light of Christ, I greet you. With the reverence of this Holy Season, I call you forth, to be gems on the great Tree of Life.
The Supreme Mother, the embodiment of the Trees of Life connects and melts into an inner marvel, an etheric Tree, which spans from the deepest, darkest recesses of Her roots within our Earth, to the highest, purest realms of Heaven. This Tree reaches upward, through each layer and level of the Heaven.
As the Christmas tree expands and grows, the children, each of us, becomes a radiant light on the tree. With magnificent colors we glow and illuminate our own area. The result is amazing for it creates billions of sparkling lights.
The angels come with garlands of light and drape the Tree with their Love.
Christ, Lord Maitreya, places a great Holy Dove upon the top of this Tree. As He does this, the Holy Spirit Dove activates, and the Tree emanates a fresh level of perfection and good will to all life.
O Christ, benevolent One,
Knower of the past, present and future,
Healer of the 3x3, the 9x9, and the 10,000,000 x 10,000.000,
Illuminate and expand our mind's radiance, infuse our Love,
An awaken each heart.
Let thy Service move through this Tree,
Each human ornament: sex, religion, race and creed.
Our Father God sounds the proverbial Om…
This sound brings a new level of harmony which flows,
Up and down the Great Tree.
God the Mother kisses the eternal Christ Child, and each one of us feels this tender kiss, flowing through our being. O Thank you Mother, O thank you Father, O thank you, Lord Maitreya, and the angels.
The Tree shines and sparkles, the songs of Christmas angels flow.
We feel, know, and see, this is the most perfect Tree ever created.
Om Shanti. (3x) All is well. (3x)
The Dove of Peace flows the Love throughout the Tree. Illusions melt completely. We let go of the unreal. We claim the healing and the perfection of the Truth. This is our new freedom. In Unity, we radiate, we sing, we glow, and we transform and lift All That Is to God/Goddess. So be it and so it is!
I Am Christ Emmanuel,
I Am Lord Maitreya,
I Am the Dove of Peace
Mother Mary-Ma McChrist
Standing in the mighty Flame of the Tree of Life.
It is so done. Om, Om, Om!
Merry Christmas and Happy Hanukkah
© 2009 by Mary McChrist. All rights reserved. This may be shared for personal noncommercial use only, giving complete credit as shown. Web site: www.MaryClariceMc
Christ.com www.NewWorldTeachings.com & E-mail: This email address is being protected from spambots. You need JavaScript enabled to view it.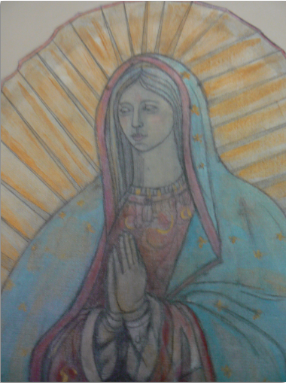 Each year our Lady Virgin of Guadalupe comes to visit with me. This is when she dictated her wonderful book: Virgin Guadalupe's Gifts and Prayers. In 2010 it won a Silver Award in the E-lit Awards in Inspirational and Spiritual Catagory in New York. That was very exciting for all of us.
12:12 is the Virgin's Feast Day. Over one million devotees travel to Mexico City to visit the Basilica. I got to do this in 2003. It was unforgettable for sure. We will do a teleconference on the phone on Thursday, 12:12 from 6-7:30 PM PST. This is free to Lesson Members and Blue Rose Members or $22-33 for visitors. They will have to call MA for the Correct Phone Number 530-296-4411 Mary-Ma. Members will receive the correct number by email.
Name
Play
Size
Duration
ConfRec_12-12-19_Virgin_Guadalupe's
Mary-Ma McChrist


27.6 MB
1:20:21 min
---
---
13 Days with Mother Mary

13 Days with Jesus Christ

13 Days with Archangel
Michael and El Morya Khan

Available now with recorded live sessions from Mother Mary

This will not begin until
02-23-2020

This class is still being created.
---