Introduction by Our Lady Mary
Because, I am your Spiritual Mother, everything about you is important to me: YOU, your body, emotions, mind, soul, spirit, and life. I can oversee your spiritual progress if you wish this to occur. This is not about your religion or lack thereof.  Wherever you are, whatever you believe spiritually is fine.
I am your Mother- female, male, all people.  It is my job to enfold you, and to Mentor you spiritually if you are open for this blessing. I can assist you in raising your frequency and uplifting your life
I am here for you my child. My MISSION is to love, protect, nurture, and uplift you—it is my honor and pleasure to do that for you.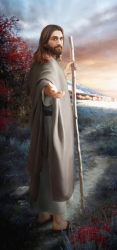 This class is now available as recorded mp3s of the original live sessions.
Dear Children,
I come to you, to gather you into my arms, and to infold you in my Light. It is so wonderful to connect once more with you, precious one of my heart and soul.
As your Shepherd; I have lifted you up, and protected you from harm. Now, I come as your Spiritual Teacher, no matter which Path you have aligned yourself with; for I Am the Synthesis of All Paths. I Am the Way Home through the Ascension flame.
Dear Blue Rose Knights,

I, Michael, promise to create an amazing class for you, which will help prepare you to hold your replica of My Mighty Sword Excalibur, and weld it with power, and a sense of right action. As of old, we Protect the Divine Mothers and their Children. Our Round Table is unique because it is composed of both men, and this time, also the women, Ladies of the Holy Grail. The Blue Rose is the symbol of our Unity and courage.

Your own heart will confirm that you are meant to sit at this Table Round of the New World.

The series of 6 Sessions for $333.00 Now just $300.00 (this is a $600.00 value)
(Sessions are pre-recorded and available now.)

 




Round Table Course Covers

Connect with the Angelic Realms
Experience Archangel Michael's Direct Teachings
Secure A Seat On The Round Table
be Protected by the "whole armor of God" (Suit of Armor, Cuffs, Boots, Helmet, and the Excalibur sword)
How to manifest with the Intention Cube

 

Your bonus gifts:

2 Helper Angels (Lesson #1)
1 Protector Power Angel (Lesson #2)
Michael's Marvelous Toolbox (3 tools each lesson)

  

Blue Rose Knights, I look forward to our Adventure together.
I AM Archangel Michael,

Standing in the Heart of Mother Mary and MA.
© 2021 by Mary McChrist. All Rights Reserved.

 "Michael's Solar Presence" by Mary McChrist
 8"x10", on glossy photo paper is $10.00 + $6.00 S&H.
© Copyright 2021 Mary McChrist

All Rights Reserved.
To order call 530-572-1604. Larger sizes are possible.
This is like having Michael right there with you!
6 Sessions for $333.00 Now > $300.00 (that's over 10 hours)
| | |
| --- | --- |
| Access to Program: | 1 year |
| Price: | $300.00 |
---