Introduction by Our Lady Mary
Because, I am your Spiritual Mother, everything about you is important to me: YOU, your body, emotions, mind, soul, spirit and life. I can oversee your spiritual progress if you wish this to occur. This is not about your religion or lack thereof. Wherever you are, what ever you believe spiritually is fine.
I am your Mother- female, male, all people. It is my job to enfold you, and to Mentor you spiritually, if you are open for this blessing. I can assist you in raising your frequency and uplifting your life
I am here for you my child. My MISSION is to love, protect, nurture and uplift you—it is my honor and pleasure to do that for you.
"13 Days with Mother Mary" allows me to directly connect with you and your immediate loved ones (usually 4 people at first.) This program is designed to show you: How I will help you; What I will do for you, if you wish to connect with me; and the beauty of opening your heart wider and wider. You, will connect directly to my heart; learn about your Higher Self, and your own God-Presence, the rainbow rays of God, and My Ascension Rosary given to Mary Clarice McChrist which is also my Rosary Gift to all people. Both non-Catholics and Catholics recite this new Rosary. Learn how to call for Divine Intervention and to receive the protection and healing of Archangel Michael and others. LESSON 1 is your free gift out of the program of 13 Lessons. All Lessons are Actual messages from Mother Mary, Heart Streamed through Mary-Ma McChrist.
You will shift, and your life will improve. Hope will again fill your heart and soul. The "13 Days with Mother Mary are symbolically MY Mantle of Glorious Protection which will be placed around you, always and only, with your Free Will Consent.
These Teachings are PRICELESS, and are only available here, at New World Teachings.com.
Mary-Ma says, "Look at the Topics we will explore. Check out the reasonable prices and sign-up now. There is an option that will work for you." Class Membership Prices
The Telepathic Process
My Son, Jesus and I, created these lessons, and gave them word by word to our Visionary/Messenger, Mary Clarice McChrist. She receives our words telepathically, and we make sure every word is accurate and correct. You may wish to read Mary-Ma's biography, and later consume her many books, which were also received telepathically. She has worked with the Holy Family and the Ascended Masters since 1971.
When Ma was trained in the early 1970's, and began her spiritual work, there was only a handful of people who could communicate with Spirit. There are now many, BUT they were not personally trained to be a Messenger and may or may not be accurate. Mary-Ma was commissioned by the Spiritual Hierarchy to be a Messenger. This is the important difference. She is a pioneer in this movement.
Your Bonus Gift
When you sign-up and pay for your class, you may order your FREE book: The Blessed Mother's Blue Rose of the Healing Heart by McChrist by emailing Dawn at:
This Blue Rose Book provides a rich foundation of spiritual Teaching. Christ Jesus and Archangel Michael both contributed to this precious book, I often call it My Mary Bible. Besides basic concepts, it contains advanced and even Secret Teachings on the embodiment of Christ, and the Mother. Many people use this book for our Blue Rose Devotion every Sunday from 10:00-11:30 AM PST since it contains many lovely prayers. My Blessings are upon you.
Your Mother, Mary, Queen of Peace
Our Mother Mary asked that Russia and NOW the United States to be Consecrated to Her Immaculate Heart as REQUESTED by God the Father. A consecration is an entrustment under GOD!
If the Pope and bishops do this, as Our Lady Mary asked over 100 years ago, War will STOP, and Peace will Prevail.
Go into your hearts and prayer that the Pope and children of our world will LISTEN and follow my Request. Please hear My Exact Words in my latest transmission to Mary-Ma McChrist called "Listen to Your Heart."
Name
Play
Size
Duration
Lesson00_My_Immaculate _Heart_Talk
My Recording


10.3 MB
7:30 min
My Dear Children,
Our "13 Days with Mother Mary" are coming to a close. You are welcome to continue working with me on a daily basis. We can meditate together and work on your Daily Practices. It is your choice as you wait for your "13 Days with Jesus."
My hope is that you will chose to continue on with me. Work on the lessons again and again as you wish. Which ones we're most helpful to you and why?
Your comments can help spread New World Teachings. What are your questions for me? If they are general questions, we can discuss these Sunday, after our Blue Rose devotional 11:30-11:45 AM PST. If they are too personal call Ma, 530-296-4411. Send your class comments to: This email address is being protected from spambots. You need JavaScript enabled to view it. Some will be posted with you first name and initials.
Come to the "13 Days with Jesus," which will begin 1-14-2020. This will be a wonderful experience for you. This first run of "13 Days" was new for all of us. It will be so much easier this time. That we all know the basics of the web site and how it all works together.
Please also share your suggestions.
I ask you to honor the fact that these classes are under copy-write. They help Mother Mary-Ma pay her bills, so do not give them our to others. We have worked 13 hours a day for 3 months, and now about 6 hours a day the last few weeks. Thank you for participating and understanding.
You will receive your "13 Days with Mother Mary Certificate" in the next ten days but you must first attend two Fatima Vigils and two Sunday, Blue Rose Devotions. Mother Mary is firm about this.
I love you and hold you always in my heart of hearts.
I Am Mary, Queen of Peace.
Heart Stream Mary Clarice McChrist
How can you help?
Tell your spiritual friends about New World Teachings. Carefully give them the web site: New World Teachings.com. Share your own comment and what you have received from the classes. Please send these to us as well. Post "13 Days with Mary or Jesus" on your Facebook and social media.
Remember, if one of your friends takes a course you will get your next class for 50% off. Two people and you come free. You can't do better than that.
Have a wonderful Christmas and holidays.
Love,
Mary-Ma 530-296-4411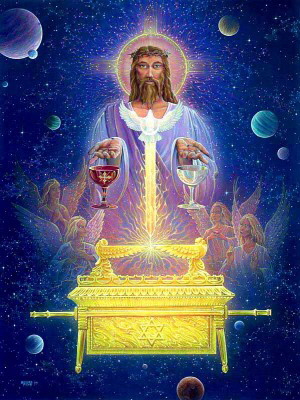 The Blue Rose
Introduction / Vision
Lesson 1 - Names of it
Lesson 2 - Holy Name
Lesson 3 - My Daily Practice
Lesson 4 - New Colors
Lesson 5 - Christmas
Lesson 6 - Devotion and Healing
Lesson 7 - Children
Lesson 8 - Abundance
Lesson 9 - Crucifixion & Arch of the Covenant
Lesson 10 - When Tragedy Strikes
Lesson 11 - The Buddha and the Christ
Lesson 12 - Mary Magdalene & Twin Flame
Lesson 13 - Completion and Graduation
The Power of Prayer- Wheels Within Wheels, Worlds within Worlds
Please enfold and comfort each other daily. So many people do not have family or a spiritual community they can connect with. It is important not to feel isolated and alone. Know I am here as Mother Mary-Ma for you, and for your loved-ones. We can form circles within circles and wheels within wheels that move together or separately, keeping us encircled in prayers of Divine Love. Just knowing this may be helpful to someone, perhaps yourself.
Every day, when I say my Daily Practice, I call each member by name, and the four people you asked me to pray for if you are a Blue Rose Member or in any of the classes. Our list grows daily, and our circle become wider and stronger. Each of you are unique and perfect just as you are. Mother Mary and I accept you just as you are without question. Please join us.
On the Solstice, my son David put up our little revolving world. My inner child and I, really have fun with this globe. Notice your Flag and country comes up when you come on line. I don't know if this still happens if you are visiting?? It is also a wonderful world service aid when you are doing your own prayer practice. Project you love into the tiny globe and help empower our wheels within wheels. This increases our power for good. Heaven knows the earth requires our LOVE.
I wrap you in my Love.
God Bless you, so be it and so it is.
Mother Mary-Ma McChrist
My Children, Children of Mary, Our Mother,
I enfold a New Template for you today. This is something different, coming forth now in 2020, the year of Our Lord - Grace One. What does this mean? This is the first Year that we can stand before the Mother and be counted as Her Worthy Children. Our Lady, My Holy Mother has worked hourly, daily, yearly to call us together, and to begin to open Our Hearts. One by one, child by child, we have begun to Listen to our Holy and Divine Mother. 3.1 % of humanity has began to Listen to Our Lady.
Each of her Apparitions have at first occurred before children or innocent ones. Many of these little ones did not know who she was, why she was there or anything about the miracle they were experiencing. Our Lady came to them for her own reasons, but she picked these visionaries very carefully. Realize Mary Clarice McChrist is one of these visionaries there are no accidents here.
My Mother amazes me, I Am so grateful she has devoted life after life to awakening and opening the hearts and eyes of her children. She comes time and time again, when the need becomes critical. No other Ascended Master or avatar has given the time and devotion Our Lady has given to all of us. If we are honest, we must all stand back and realize our Mother has kept us from extinction several times.
In the "13 Days with Mother Mary," she laid the foundation for New World Teachings.com.us. Those who have or will take these lessons are contribution to the betterment of the whole planet. I, Christ Jesus compliment you for your sound decision. "13 Days with Christ Jesus" is our next step together.
The Arc of the Covenant
The Arc of the Covenant contains the most Holy symbols and artifacts ever given to humankind. In the time of Our Father Moses, the Arc with assembled for humans to realize the ultimate Power of Divinity.
The Holy of Holies, was housed behind the great protective veil of the Temple in Jerusalem. No one but the High Priests of the Patriarch could venture into the presence of the Arc. There is no record of where the Arc came from. It is said that King David brought it to Jerusalem. Some Priests felt it was lowered from the Heavens, but no one knew for sure.
During the time of the EXODUS from Egypt the Arc went before the people. It was carried by two men in the front and two men in the back. The Arc was radio active and killed many accidently. One must wear special clothing and only act in specific ways under the instruction of the High Priest. And the angelic hosts who guided and guarded the Arc. I can not say more about this at this time. Jesus Christ. 1-4-20.
© 2020 by Mary McChrist. All Rights reserved.
Subcategories
Come under the Grace and Protective Mantle of Our Lady Mother Mary.

See the wonders she offers. This is an on-going Class, at your own pace.

Go to her class and Join it.
---
Jesus Speaks, "Follow-me, gain the Christed-Heart and Ascend to 5-D and beyond.

I designed these spiritual lessons especially for you. They are powerful, practical and filled with my LOVE. These lessons hold secrets and keys to your

attainment. I personally call you to:

"13 Lessons with Lord Jesus Christ" Recorded Live on these dates:

It will begin with an introductory pre-class on 2-29--2020 with Jesus, myself and Mary-Ma McChrist, my messenger. Love Offering sliding scale $22-65.
The main class begins with a powerful Teleconference Call on 3-21- 2020, "Rainbow Diamond Heart of the Christ." 6-8 PM PST. Love Offering sliding scale $22-65.
The Good Friday class is from 6-7:30 PMST "Transmuting the Cross." Love Offering sliding scale $22-65.
Sunday, 4-12-2020 we will "Join in Christ's Ascension Triumph" from 2-4:00 PM PST. Love Offering sliding scale $22-65.
Sat. 4-25-2020 is a special Lesson with Beloved Mary Magdalene from 6-8 PM PST. Love Offering sliding scale $22-65.

If you have signed up for this class already then it is included unless you wish to donate more.

Sign-up at https://newworldteachings.com

Come experience this class with Lord Jesus as he shares his personal path to ascension and leads by example to show us "the way."

All 13 lessons are specially priced just for you at $260 which is a saving from $65.00 per lesson which would be $845.00, which is a $585 dollar savings' This is an amazing saving and opportunity to work live with Lord Jesus first hand

You move through them at your own speed as the classes are recorded for your convenience. With Mary McChist there to mediate for you to hear and speak to Jesus for you. You can also set up one-to-one readings for more personal communication. Sign-up in the readings section on the website.

Sign-up at https://newworldteachings.com

Check the prices and sign-up now. After this introduction First Series, The Lessons will be twice as much, don't wait.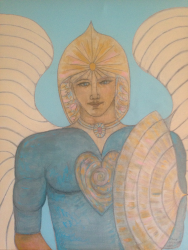 Dear Blue Rose Knights,
I, Michael, promise to create an amazing class for you, which will help prepare you to hold a replica of My Mighty Sword Excalibur, and weld it with power, and a sense of right action.
As of old, we Protect the Divine Mothers and their Children. Our Round Table is unique, because it is composed of both men, and this time, also the women, Ladies of the Holy Grail. The Blue Rose is the symbol of our Unity and courage. The Michael classes will prepare us to take our positions as Knights, Lady Knights, and Masters.
Your own heart will confirm that you are meant to sit at this Table Round of the New World.
"13 Days with Archangel Michael" will be scheduled later.
I AM Archangel Michael,
Standing in the Heart of Mother Mary and MA.
3:10 PM PST 12-4-19
© 2019-2020 by Mary McChrist. All Rights Reserved.