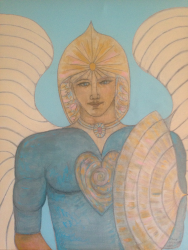 Dear Blue Rose Knights,
I, Michael, promise to create an amazing class for you, which will help prepare you to hold a replica of My Mighty Sword Excalibur, and weld it with power, and a sense of right action. As of old, we Protect the Divine Mothers and their Children. Our Round Table is unique because it is composed of both men, and this time, also the women, Ladies of the Holy Grail. The Blue Rose is the symbol of our Unity and courage.
Your own heart will confirm that you are meant to sit at this Table Round of the New World.

This program's start date has not yet been announced. please check back...
Blue Rose Knights, I look forward to our Adventure together.
I AM Archangel Michael,
Standing in the Heart of Mother Mary and MA.
© 2019 by Mary McChrist. All Rights Reserved.
---
---