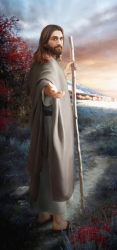 This class is now available as recorded mp3s of the original live sessions.
Dear Children,
I come to you, to gather you into my arms, and to infold you in my Light. It is so wonderful to connect once more with you, precious one of my heart and soul.
As your Shepherd; I have lifted you up, and protected you from harm. Now, I come as your Spiritual Teacher, no matter which Path you have aligned yourself with; for I Am the Synthesis of All Paths. I Am the Way Home through the Ascension flame.
I have carefully designed my 13 Lessons for you, my Dear One.
these lessons are Born from my Flaming Heart and will ignite you,
and will direct you, to "Follow Me," as I have asked you to do.
My Mother Mary is a perfect Foundation; I AM the New Mansion of My Father. Both of these lesson packages will greatly assist you. They can be taken in any order. What is best for you? Go with your own heart's direction.
This Class Series with Jesus/Yeshua is now available as recorded lessons. These mp3s give you the ability to enjoy/learn on your time.
Check out the reasonable prices and sign-up now. There is an option that will work for you. Once signed up you will have access to the class materials for 1 year. The recordings will be available but the LIVE classes will be complete on 12/12/2020. The graduation party call will follow on 12-19-2020. 
Go then to Michael's Round Table and his 1-1-2021 Call for information about these amazing and exciting sessions.
This Round Table is composed of both women and men, so everyone is welcome. Archangel Michael has set these sessions at $333.00 for the series of 13. We are very excited about this. El Morya Khan, Chohan of the First Ray, who was the ORIGINAL King Author will be the co-host with AA Michael Through Mother Mary-Ma McChrist.